The National Association for Stock Car Auto Racing or NASCAR, is big in the USA, not nearly as big as the NFL, NBA, MLB but it's still a giant. NASCAR reportedly makes $660 million per year in television revenue, and the Daytona 500 which the Super Bowl of NASCAR races, brings in a reported $2 billion annually to the state of Floridas economy.
Every year over 4 million fans attend the 36 different NASCAR races.  It's an all American business founded by Bill France Sr. in 1948. Since then, NASCAR became the main organiser and supporter of motorsport events involving stock race cars all over the world. Overall, it is one of the most popular organisations in the world of motorsports.
These historic moments, filled with adrenaline and expectations put these pilots on top and transformed them into legends.
So, if you want to know about the NASCAR legends, take a look at the top 5 best drivers of all time.
The most extreme races across all sports
1. Richard €˜The King Petty
He's called the king for good reason, winning a record 200 races during his career, winning the Daytona 500 a record seven times, and winning a record 27 races, (10 of them consecutively) in the 1967 season alone.
The GOAT of NASCAR collected a record number of poles (127) and over 700 Top 10 finishes in his record 1,184 starts, including 513 consecutive starts from 1971€"1989.
Petty retired after the 1992 season but his name is well-known by fans and drivers today and you can find it in several halls of fame, including the NASCAR Hall of Fame.
The most extreme motor races on earth
2. Dale Earnhardt Sr. €" €˜The Intimidator
Ralph Dale Earnhardt Sr. was an aggressive driver (hence the nickname), but his style helped him win won a total of 76 Winston Cup races over the course of his career, including the 1998 Daytona 500. He also earned seven NASCAR Winston Cup championships, tying for the most all-time with Richard Petty and Jimmie Johnson.
Greatest Formula 1 drivers of all time
Even as an active driver, he was regarded as one of the most significant pilots in the history of NASCAR, position which gave him his other nickname, €˜The Count of Monte Carlo.
He was feared by competitors on the track and he died doing what he loved, in the Dayton 500 course, in 2001, on the final lap.  His death would be being a crucial moment in improving safety in all aspects of car racing, especially NASCAR.
3. David Pearson
He was the main rival Richard Petty had on the track and managed to win the cup three times. He raced against Petty 63 times and they finished in first/second positions with the edge going to Pearson.
He won the 1960 NASCAR Rookie of the Year award in his first season.  Sports Illustrated named him the Top Stock Car Driver of the Twentieth Century and he is included in several Halls of Fame due to his stellar career.  Pearson ended his career in 1986, and currently holds the second position on NASCAR's all-time win list with 105 victories; as well as achieving 113
4. Jimmie Johnson
Photo Credit – Flickr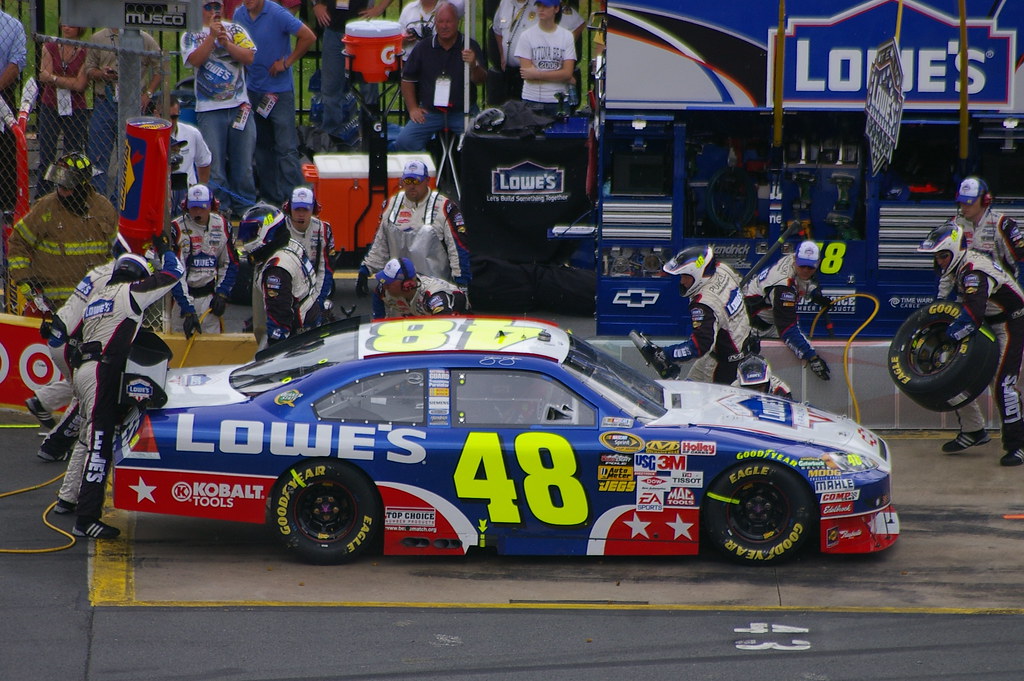 The only man on the list still racing, Jimmie Johnson started his career winning every possible race as a rookie.
He would later be the first pilot to win five consecutive championships in the NASCAR history and will gather a total of seven wins in the Monster Energy NASCAR Cup Series.
He was also named €˜driver of the year five times in his career and he is currently driving the No. 48 Chevrolet SS for Hendrick Motorsports.
5. Jeff Gordon
When Jeff Gordon entered the sport, he came in hard and fast, it only took him four seasons before he began dominating starting with the 1995 Sprint Cup title. He then finished 2nd in 1996 before winning back-to-back titles in 1997 and 1998.
He is third on the all-time Cup wins list with 93 career wins, while having the record for the most wins in NASCAR's modern era (1972€"present) and the most wins in one modern era season. Gordon is currently an announcer for Fox NASCAR, and an executive for Hendrick Motorsports.
Get in touch hello@talentbacker.com if you have a story to tell.
Follow Talent Backer: