With the advancements in sports science, improvements to equipment, professional year-round training programmes and techniques that have evolved over time, youd be forgiven for assuming that world records just steadily improve over time. 
And to a large extent this holds true, take the 100m world record, you could almost draw a linear graph of this record improving every few years without any major gaps from Luther Carys 10.8 seconds in 1891 when records began, right up to Usain Bolts 9.58 seconds in 2009. Though ironically, its starting to feel like Bolts 9.58 seconds wont be beaten for many a year to come.
At TalentBacker, we took a look at what records still stand the test of time and we could not comprehend some of the records that are still to be broken in the modern era.
Perhaps a healthy level of skepticism should be applied for the athletes of the Eastern Bloc prior to the fall of the Berlin Wall!!   
The following is the definitive list of the top 10 longest standing World Records as at March 2020:
10. Javier Sotomayor (Cuba) €" High Jump €" 26 years
Javier Sotomayor was the 1992 Olympic champion, Sotomayor was the dominant high jumper of the 1990s; his personal best of 2.45 m (8 ft 0 1"4 in) in 1993 makes him the only person ever to have cleared eight feet.
9. Kevin Young (USA) €" 400m hurdles €" 27 years
Young was aged 25 when he ran a time of 46.78 seconds to win the 400m hurdles gold medal at the 1992 Olympic Games in Barcelona.
Kevins record has never been more in jeopardy with currently 3 hurdlers on the scene who have all recorded times under 47.2 seconds. I guess its €¦just a matter of time!
8. Mike Powell (USA) €" Long Jump €" 28 years
Prior to the 1992 Olympic Games, at the 1991 World Championships in Athletics in Tokyo, Powell broke fellow countryman, Bob Beamons almost 23-year-old long jump world record by 5 cm (2 inches), leaping 8.95 m (29 ft 4 1"4 in). Powell had a fantastic rivalry with the enigmatic Carl Lewis who pipped him to the gold medal at the 1988 and 1992 Olympic Games.
However, Powells world record, since August 1991 still stands to this date, making Powell the fourth person since 1900 to hold the long jump world record for over 20 years.
7. Randy Barnes (USA) €" Shot Putt €" 29 Years
In May 1990, Barnes set a world record at the Jack in the Box Invitational meet in Los Angeles, USA with a throw of 23.12 metres (75.10 feet). He won silver at the 1988 Olympics and gold at the 1996 Olympics.
Barnes later became a longest drive competitor, competing to hit a golf ball as far as possible; he qualified for the 2005 World Long Drive Championship.
An athletes reaction to Corona Virus
6. Florence Griffith Joyner (USA) €" 100m €" 31 Years
Florence Griffith Joyner was a famous American track and field athlete born and raised in California.. At the 1988 U.S. Olympic trials, €œFlo-Jo€ as she was affectionately known set a new world record time in the 100 metres of 10.49 seconds. 
At the 1988 Olympics Games, she went on to win 3 gold medals but retired shortly after this.
USA Track and Field inducted her into its Hall of Fame in 1995.
5. Galina Chistyakova (Soviet Union) €" Long Jump €" 31 Years
Chistyakova represented the Soviet Union and later Slovakia and is the current world record holder in the long jump, jumping 7.52 metres in 1988.
She is the 1988 Olympic bronze medallist and the 1989 World Indoor champion. She is also a former world record holder (pre-IAAF) in the triple jump with 14.52 metres in 1989.
Post athletics, Flo-Jo remained a pop culture figure through endorsement deals, acting, and designing. Sadly, she died in her sleep as the result of an epileptic seizure in 1998 at the young age of 38.
The oldest athletes still competing
4. Stefka Kostadinova (Bulgaria) €" High Jump €" 32 years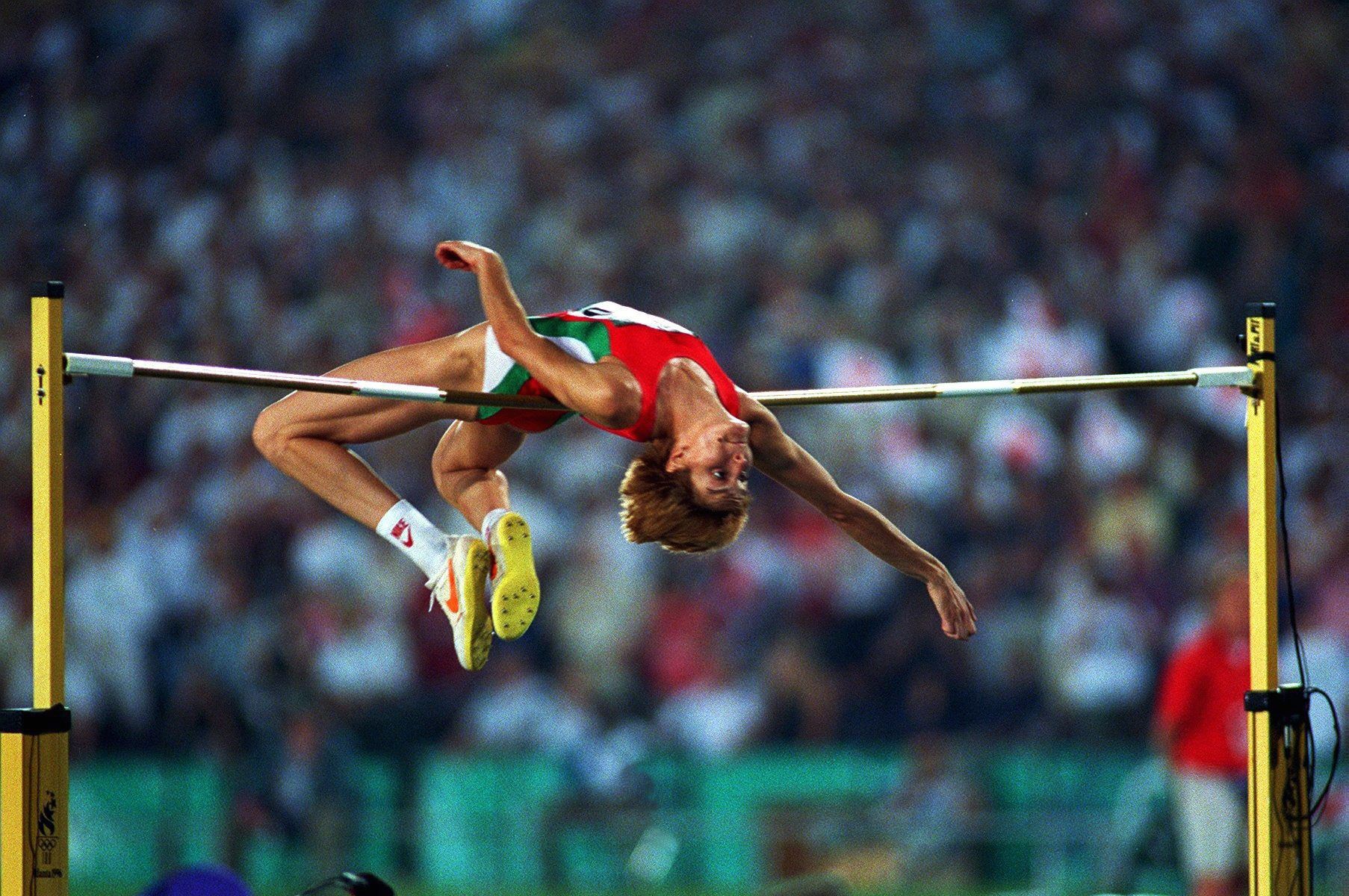 Kostadinova is a glamorous Bulgarian retired athlete who competed in the high jump. Her world record of 2.09 metres has not been beaten since 1987. In her career she managed to jump over 2 meters on 197 occasions.
Stefka is the 1996 Olympic champion, a two-time World champion and a five-time World Indoor champion.  
She has been the president of the Bulgarian Olympic Committee since 2005 and is seen as a darling and icon of European athletics.
Find out what the best athletes in the world like to eat!
3. Yuriy Sedykh (Soviet Union)  €" Hammer €" 33 years
Sedykh referred to his elegant throwing motion as €œthe dance€ and set the current hammer throw world record of 86.74 metres at the 1986 European Championships in Stuttgart.
Sedykh had a nemesis named Sergey Litvinov and they both motivated each other towards greater distances, these two Soviets are the only two men to have thrown over 86 meters in the history of the sport (Ivan Tsikhans 86.73m throw in 2005 was annulled by the IAAF in April 2014 due to doping sanctions).
2. Jürgen Schult (Ger) €" Discuss throw €" 33 Years
At 6 feet 4 inches (193cm) and 110 kilos (243 lbs) Jurgen Schult would have been a monster in track and field in any era. Schult was an East German athlete and is still the world record holder in the Discus throw with an astonishing distance recorded of 74.08 meters at a meet in Neubrandenburg in 1986.
He represented East Germany in the 1988 Olympics in the discus throw, where he won the gold medal.
His world record is currently the longest standing in mens field history.
The biggest athlete sponsorship deals in sport
1. Jarmila Kratochvílová (Czech) €" 800m €" 36 years
Kratochvílová, at the ripe old age of 32 won the 400 metres and 800 metres at the 1983 World Championships, with a world record time for the 800 metres of 1 minute 53 seconds.
This is currently the longest-standing individual world record in athletics.
Only two athletes, Pamela Jelimo of Kenya, in 2008 and Caster Semenya of South Africa, in 2018 have come within a second of Kratochvílovás time since it was set.
The fastest athletes in sports
Talent Backer is a media platform for emerging athletes to tell their stories and promote themselves for sponsorship. 
Get in touch hello@talentbacker.com if you have a story to tell.
Follow Talent Backer: